DALLAS COUNTY JAIL VISITATION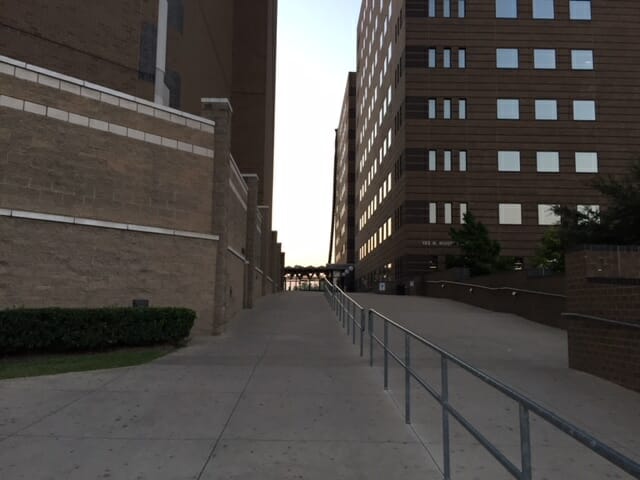 Here at Southern Bail Bonds Dallas we are often asked about schedules and rules for visiting inmates at Lew Sterrett Justice Center – better known as the Dallas County Jail (or Lew Lew for some).
________________________________________
Visiting Hours/Schedule: (No Visitation on Wednesdays)
Hours:
Monday/Tuesday/Thursday/Friday – 7:00 pm to 9:00 pm
Saturday/Sunday – 8:00 am to 2:00 pm
Schedule:
Monday & Thursday: Inmates last name starts with A-L. (No children under age 17 allowed)
Tuesday & Friday: Inmates last name starts with M-Z (No children under the age 17 allowed)
Saturday $ Sunday: Open visitation – all children may visit.
Each visitor may visit only once per calendar week. The visitor must arrive at least thirty minutes before the end of visiting hours to insure ample time for processing.
Frequency:
Each inmate is allowed no more than two visits per week. Weeks runs from Sunday to Saturday.
Example: If father, mother and sister visit on the appropriate day at the same time that is considered one visit. If wife visits the next day, then that inmate's visitation is done for the week.
What to expect:
When you arrive, if possible, it would be handy if the visitor has the inmates Bookin and tank number ready. It's not necessary, but it may speed the registration process. The detention officers on duty will write that info on a form and give it to the visitor to add additional information about everyone who is in the visiting party under the age of 17, like name, race, sex, etc. that will be going on to the jail floor for the visit.
Children under the age of 17 are not allowed to visit on their own, they much be accompanied by an adult. One adult can accompany 2 children per visit.
Visitors who are 17 years old or older must show valid ID and they must also be listed on the inmate's visitation card.
Scanning
All visitors will be scanned and will need to go through a metal detector before being allowed onto the jail floor. Of course, this is for everyone's protection and there are no exceptions. If officers determine there is cause for a physical search, then the visitor may be required to complete that search before either entering the jail floor or leaving the facility. Understandably, there are certain items that can't be carried onto the jail floor. Just use good judgment and common sense when determining what items you have on your person when entering the jail.
Did you know that Lew Sterrett now provides video visitation? You can click here for additional information.
Items That Are Prohibited In The Jail:
As mentioned earlier, visitors need to be aware that certain items are prohibited on the jail floor. Dallas County jail has provided this list of prohibited items: Cell phones, cameras, pagers, purses, umbrellas, packages, mace, handbags, paper sacks, cigarettes, cigarette lighters, matches or any glass or metal containers.
This list may not be all-inclusive, so please check with the jail before visiting if you have questions on what is prohibited.
Other prohibited items include glass bottles, including baby bottles, blankets, any strollers or baby buggies, and baby toys. Of course, pocket knives or other sharp objects are prohibited. Additionally, any types of weapons or anything that could be altered to be used as a weapon is prohibited as well. Again, before you enter the jail, take a personal inventory of what you have on you or in your purse. You may be carrying a prohibited item and not even realize it. Many people carry Swiss knives because of all the 'gadgets' they include – be a lot of people don't think of them as being a weapon, but it would definitely be prohibited when visiting the jail.
Rules For Visiting The Jail:
• All minors under the age of 17 must be accompanied by a parent or a legal guardian.
• Each adult is only allowed to accompany two children per visit.
• If probably cause exists, visitors may be subject to physical searches.
• Visitors are not allowed to give any items directly to inmates.
• Visitors are required to successfully clear the metal detector before being allowed entrance into the secured area.
• Any disruption in the visitation process could result in visit termination and/or visit restriction.
Age Restrictions:
Minors under 17 years old must be accompanied by a parent or legal guardian. Legal guardians may be required to show documented proof of guardianship. All minors being accompanied by a parent or legal guardian are required to visit the same inmate that the parent or legal guardian is visiting and shall be kept under supervision by that parent or legal guardian at all times while inside the jail facility.
Visitors who are married and under the age of 17 will need to provide proof of marriage before visitation will be allowed.
Identification:
• Visitors will need to provide VALID state or government issued identification. All identification documents must be either original or certified copies. Acceptable documents are listed below:
• State driver license – a paper driver license renewal must be accompanied by additional photo identification.
• State issued identification card – a paper identification card must be accompanied by additional photo identification.
• Government issued Passport
• Military ID
• An Alien Registration Card
If none of these identification documents are available, check with the Dallas county jail to see what other identification provisions can be made. A jail visitation card issued by Dallas County may be an option. Check with the Dallas County jail or click here for additional details about obtaining a jail visitation card.
Special Visitation For Persons Who Live More Than 75 Miles From Dallas:
If a visitor lives more than 75 miles out of Dallas, you may qualify for a one-time Special Visit. A visitor requesting a "Special Visit" is not required to be on the inmate's visitors card. The visitor must show valid proof of residence to qualify for a special visit.
For visitors that qualify, Special Visits may be conducted at any time with the exception of feeding times and during emergency conditions.
Special visits are not automatically granted. They are a one-time occurrence and are reserved for a visitor or visitors who live more than 75 miles from the jail and "could not have reasonably anticipated to visit, at the time the inmate completed the visiting card."
If you aren't sure you qualify for a Special Visit, be sure to contact the detention center.
Visitors With Prior Incarcerations:
Persons who have themselves been in jail during the previous six months will be prohibited from visiting unless the inmate is their legal spouse AND prior approval has been provided by the jail supervisor.
Dress Code:
Visitors are required to wear proper attire at all times. The following clothing items are prohibited:
• Transparent Clothing
• Seductive Clothing
• Tube Tops
• Halter Tops
• Strapless Tops
• Backless Tops
• Spaghetti Straps
• Short must be at knee length
• Skirts must be at knee length
• Visitors who are inappropriately dressed with gang related clothing, hairstyles or graffiti will be denied visits.
Visitors Will Maintain Orderly Conduct At All Times:
Visitors and children being accompanied by visitors shall be orderly at all times. Children must be supervised and are not allowed to run and/or play in the visitations areas. Basically – keep control of your kids!
Visitors and children who do not maintain orderly conduct may have their visitation ended and may be required to leave the detention center.
No Lewd Or Obscene Language Or Behavior Allowed!!
Appropriate accommodations are made for visitors with disabilities.
Please feel free to contact us at 214-372-2500 if you have additional questions. Southern Bail Bonds is conveniently located just 6 minutes for the Lew Sterrett Justice Center.