A Complete Guide To Immigration Bail Bonds – Everything You Need To Know
As a Dallas county professional bail bondsman, Southern Bail Bonds handles all types of clients. In many cases, we handle clients who are citizens, and some who are immigrants. Because of this, Southern Bail Bonds has been able to come up with the differences between immigration bail and normal bail. In this article, you will find everything that there is to know about immigration bail bonds.
About Immigration Bail Bonds
The US law and constitution is quite strict on immigration issues. On the off chance that the citizenship status slips or you violate legal limits to remain a US citizen, arrest and prosecution will take after. The Immigration and Customs Enforcement branch of Department of Homeland Security can detain you and put in custody. In this situation, you can apply for an immigration bail bond.
Can An Illegal Alian Apply For An Immigration Bail Bond?
An illegal immigrant is qualified for an immigration bond in the event that he or she has been arrested by the Immigration and Naturalization Service (INS) and has been issued a Warrant of Arrest. Immigration bonds are like other bail bonds as they too guarantee the presence of an individual accused of a legal violation in court. The amount of a bond must be sufficient to guarantee that the defendant will show up for all further immigration procedures. The outsider would be considered for the bail bond just if qualified. The outsider must demonstrate that such a discharge would not represent a peril to property or people, and that he or she is probably going to show up for any future procedures to the satisfaction of the immigration officer.
An organization's bail bondsman can post the immigration bond simply after the INS determines that the outsider is qualified. Notwithstanding, an immigration bond can likewise be posted through a private organization rather than the INS. The name and registration number of the outsider and the name of the facility where the outsider is being held must be given. These essential requirements are like other types of bail bonds, including the yearly premium payment paid to the bail agent.
Immigration bonds require a casualty license instead of the usual license. Additionally, in the event the outsider does not show up in the court when summoned, the bonds posted will be subjected to immediate forfeiture. Dialect boundaries frequently give another immigration bond difficulty to the bail bond agents. The procedures in collecting the collateral differ in immigration cases.
It is important to note that the immigration bail bonds won't guarantee that an individual won't be deported from the country. It just guarantees that the arrested people can unreservedly meet with their attorneys and take other steps important to correct their situations with the INS.
Immigration bail bonds have particular standards and requirements that might not be like other types of prison bonds. Any attorney who knows about immigration issues can enable you to understand the specifics of immigration bail bonds.
Nuts and bolts of Immigration Bail Bond
The immigration bond is a legal option to discharge a man in custody for immigration detention. Typically, licensed bond organizations do the needful for discharging a denounced in these situations. You have to understand that obtaining bail does not equate to withdrawal of the charges. You still need to resort to legal intends to obtain citizenship status in the USA. It lets you leave the jail with a few conditions while the case is in advance. After getting discharged in this procedure, you need to show up for court hearings and report to the immigration officials when required.
Immigration bond is a government bond, versus that of the state, for which you might be in charge of posting when you have been detained and arrested by the bureau of Immigration and Customs Enforcement. This is a lot different than being arrested by your city or other nearby authorities. On account of immigration bonds it is the national government with which you are managing.
In one key way, an immigration bond is natural territory for those who have charted the waters of the bail and bond process. The bond is put up to just guarantee the courts that the individual who has been arrested and detained will appear for all planned court procedures.
The Immigration Bail Bonds Process Is Different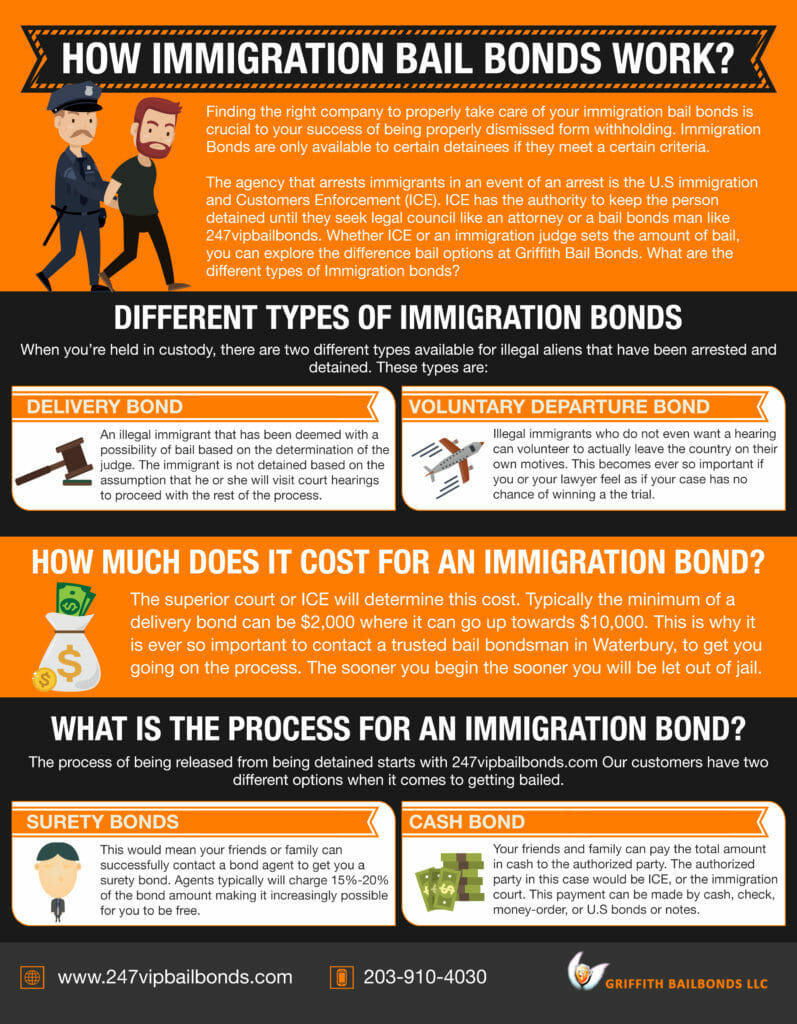 Be that as it may, in other ways, the immigration bond process can be quite different from those about which we are accustomed to hearing. First of all, on the off chance that one is posting a money bond, this will go directly to the Bureau of Immigration and Customs Enforcement, and not the nearby correctional facility or court. Second of all, keeping in mind the end goal to have cash issued for an immigration bond, one must experience a bail bondsman or bail bond organization which is licensed to deal with immigration bonds. Not all bail bondsmen are licensed to do this, so do your exploration precisely.
Communication Issues Between The Bondsman And The Family
In addition to having the communication issues that can often emerge in these situations because of the bail bondsman and the detainee or his family another dialect, the issuing of immigration bonds can likewise be a difficult procedure because of the quantity of offices which must be included and working with the greater part of their different hours of operation. Not just completes one need to locate a licensed bail bond organization to help with the issuing of an immigration bond, but you must likewise know the hours of the INS and Bureau of Immigration and Custom Enforcement. Because of the quantity of obstructions which can emerge when one works with immigration bonds, the expenses that are charged to process these are often significantly higher than those for ordinary state bonds. These expenses are often fifteen to twenty percent of the said bail, versus the normal ten percent of regular bail bonds. Though they are guaranteeing an indistinguishable thing from a regular state issued bond, the immigration bond process has more legwork and greater obstacles to look than a regular bond may have, and can sometimes take any longer to process because of these obstacles. Ideally, you will never need to stress over these steps, but in case you do, ensure you know your rights and obtain somebody acquainted with immigration law and strategy to help you through the legal procedure.
An Immigration bond issued by a Surety organization not just guarantees the detainees appearance but additionally guarantees that the Alien won't turn into a weight on the state. In other words if a detainee on bond gets harmed crossing the street and is taken to the neighborhood county hospital for treatment all costs brought about by the county, city or state can be passed on to the Surety organization that issued the first bond on the outsider. For more information about immigration bond contact a neighborhood bail bond organization
Eligibility for Immigration Bail bonds
Not every person blamed for immigration charges can apply for discharge after depositing security cash according to the US law. There are a few conditions which prohibit issuance of immigration bail bond to an applicant.
• If you had beforehand gotten arrange for deporting, you cannot get a bail bond for immigration charges.
• If you have criminal records like serving jail term for lawful offense, you might be regarded ineligible for this.
• People considered hazardous to the community and national security can be denied discharge through security deposits post arrest.
Two Types of Immigration Bonds
As it seems to be, people caught for immigration charges by the ICE can opt for either of two methods-Voluntary departure bond and Delivery bond.
Conveyance bond can be benefited by a man who is blamed for being an illegal immigrant and under ICE detention. It is issued on the condition the individual will appear at all immigration hearings. To apply for it, you have to have notice of custody conditions and an arrest warrant.
The Voluntary departure bond enables the detainee to leave the country at individual cost within a timeframe. The departure bond, to be paid to the ICE is refundable post departure. Be that as it may, the cash will get forfeited if the detainee does not take off.
Cost of Immigration Bail Bonds
The amount is set either by an immigration judge or the ICE. Factors like immigration status of the detainee, his or her criminal history, employment status can result in increment or reduction of the amount. In the event that the judge thinks discharging you on bail would be hazardous, the amount can shot up to $10,000. The base amount is $1,500 for a conveyance bond and $500 for a departure bond all in all.
When You May Need a Bail Bond Agent
At whatever point there are questions in regards to you or a friend or family member or relative's legal U.S. residency, it is of utmost importance to acquire the best legal help in your general vicinity. These matters are not to be taken lightly, and the procedure itself might intimidate, particularly on the off chance that you've never experienced it. Immigration issues include two government offices: the U.S. Immigration and Customs Enforcement Agency (ICE) and the Department of Homeland Security. These departments can have complex standards and regulations, and it is best to enlist legal representation to guarantee you understand them all.
Count on the Best When it Counts
When you get yourself or a friend or family member in a government immigration detention center, it is significant to count on the best bail bond agents to have you discharged in a timely and efficient way. The experts on your side will assist you when an immigration bail bond is set, which is often considerably higher than a regular bail bond. These immigration bail bonds are offered out to guarantee the defendant in question will attend every single planned hearing with respect to their deportation status. A dependable safeguard attorney in the territory will have extensive information of the intricacies that come when managing government offices, and can utilize this learning to best protect your rights.
Don't Go It Alone
With regards to residency related issues, you require a trusted guard attorney that will work tirelessly for your sake. This procedure can be extremely intricate, and it is important to utilize expert counsel at whatever point you are managing a situation, for example, this one. A barrier lawyer can put your psyche at ease when you are in an admittedly terrifying situation, and have you straightforward in no time. You require a lawyer on your side that has a familiarity with everything engaged with the immigration bail bond procedure to best clarify your options and give you a game-plan today.
Part of Immigration Bond Agents
When you get arrested for immigration issues in the USA, services of professional bond agents can be helpful. They can enable you to obtain such bonds in the apt way and educate you about legal subtleties. In any case, you have to discover information about legal capacity of the agent before looking for service.
The central government sets forth regulations on a few aspects of bail, for example, the nature of wrongdoings that are not qualified for getting bail. A few cases of wrongdoings that are not qualified for accepting bail are capital violations and treason. The state has legislation set forth too determining the base and most extreme amount that can be set by the judge for particular types of wrongdoings. A judge will then utilize their discretion on the bail amount contingent upon the nature of the wrongdoing, the defendant's earlier criminal history, and the flight danger of the defendant. At times the most extreme bail amount will be set to try to deter the defendant from securing their discharge pending the outcome of the trial.
Once a suspect is detained they are set up for a correctional facility or police headquarters at which point the bail procedure can start. The booking procedure incorporates positive identification of the suspect typically utilizing fingerprints, documenting the inventory found on the defendant's individual, and looking into the criminal history including warrants and pseudonyms that could prompt further charges on the suspect. In a few instances, for example, wrongdoing and minor crime investigations, bail can be posted when the booking procedure is completed with law enforcement faculty. In more genuine wrongdoings the suspect may need to wait up to 48 hours to have a bail hearing with a judge to determine the amount that must be paid.
In the United States, a bail bonds organization masterminds an agreement with the defendant to fund the bail amount set forth by a judge. On the off chance that the defendant neglects to show up in court a warrant is issued for their arrest. At this point the bail bonds organization is in charge of detaining their client with a specific end goal to recover the financing that was set forth. This amount will be lost by the bonds agent in the event that a law enforcement agent detains the suspect before a bounty hunter securing their capture.
In Conclusion
If you or a loved one has been caught up in an arrest, start by contacting a trusted immigration bail bonds expert. Southern Bail Bonds will get your family back up to speed regardless of your situation. Get stated by learning more about us and contacting us to get your life back on track. You can view our FAQ and our services page to understand a little more about what we do as Dallas Texas's premier bail bonds agent.